As I start my career as a full time streamer I had struggled to find an affordable lighting to use as I live stream, and so far I find Elgato key light a bit expensive to start. Eventually as I go through sites of looking for an affordable streaming light to use I found this awesome streaming light that I think can be as good as the Elgato Key light and it is Neewer 660 Pro RGB light.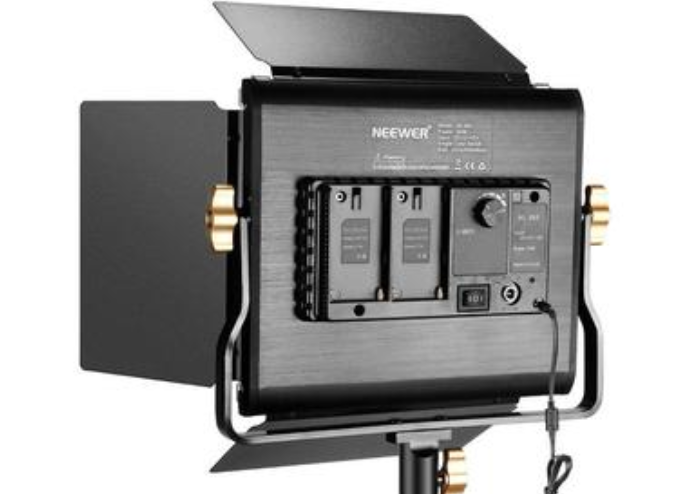 The battery holders have been designed perfectly so the mounting clips will hold each battery in place perfectly and prevent it from accidentally falling out when in use if you are using need to use batteries to power the light while also ensuring it is quick and easy to swap them out when needed. The external power connector is as basic as you would expect as it is a simple plug and power connector letting you plug the light into an external power source if needed too.
The brass colored adjusters on the left and right of the bracket are smooth and easy to rotate ensuring that you can quickly and easily tilt or pan the light as required too. This allows you to easily customize the positioning of the light for each individual photography session while also being able to tweak it mid-session if required.
Although the Neewer 660 can be considered an entry-level to mid-range price point light panel the performance and functionality that it offers really is excellent and is what sets it apart from most of the competition on the market at this price point right now.
Everything in the box with your purchase, including the lighting stand have been designed to work seamlessly together without issue. I hope this helps to save you time and know that you are getting an out of the box lighting solution that will get its job done. You can also check out my videos on my YouTube channel with this link https://www.youtube.com/channel/UCh6WAoSpXqNLBPzbfe-TibQ and you enjoyed the video, please consider to Like and Subscribe to my channel to be updated on my latest upload.